In this version of The Inca Trail it is the shortest, its duration is 2 Days 1 Night, it leaves from 104 km, located at 2,100 meters above sea level. (departing from Ollantaytambo station by train).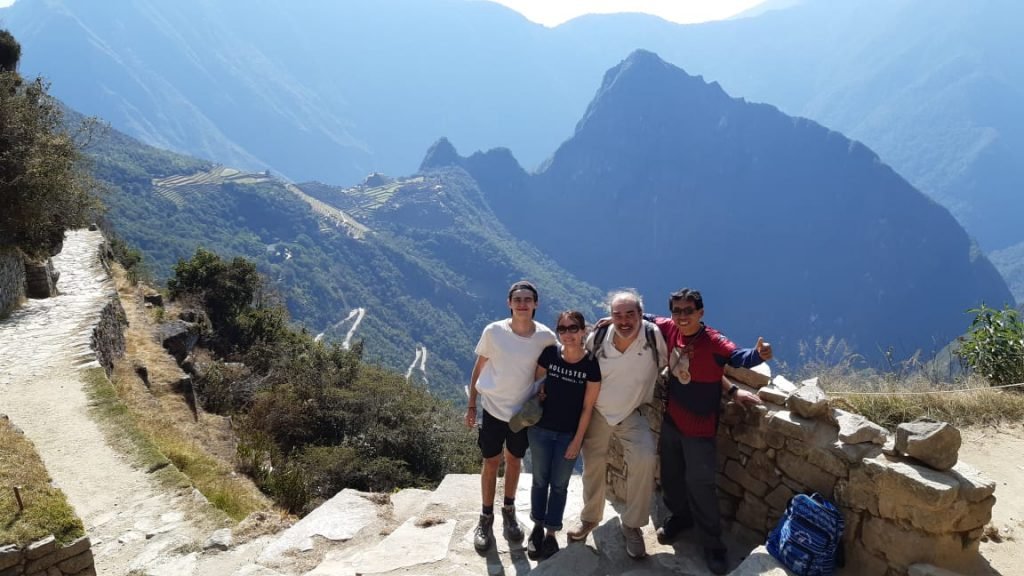 It is a 16-kilometer walk to the Citadel of Machupicchu, where you can appreciate spectacular views of high Andean landscapes and the Amazon jungle visiting Inca constructions on the route (Chachabamba, Choquesuysuy). We started walking 5 kilometers uphill with direction to the Inca Complex of Wiñaywayna, located at 2,700 meters above sea level. (Impressive Inca citadel, Wiñaywayna means "Always Young or Eternally Young" in the local Quechua language. Agricultural terraces called "Andenes" surround the entire mountain, decorating this ancient Inca complex with temples, buildings, and water channels. Quality in the contraction and its masonry is fine, its 15 ritual sources of water descend as one advances.
It was a religious center, probably associated with the worship of water, plants, nature, life. After lunch, 2-3 hours on the way to Machupicchu through a spectacular cloud forest and white granite stone road, hidden between the mountains and the lower part of the sub-tropical valley. On the way we will hear the sound of hummingbirds, quetzales and roosters from the rocks, we walk with few people at this time until we reach the Puerta del Sol. "Inti-Punku", We will have unique views from the top of this mountain. Then we will descend for safe steps for 40 minutes, to be in front of this majestic "wonder" place, we will appreciate the sunset, then we descend to the entrance of the citadel, to board a bus to go to the town of Aguas Calientes.
The next day, after breakfast, at 05:30 we board a bus to Machupicchu for our full guided tour and exploration day. Our expert guide will help you better understand Machupicchu. Then they will have free time to explore for themselves, take pictures, contemplate this magical place, or just meditate before such a wonder. If you are interested in climbing the mountain Huaynapicchu book in advance.
After our extensive visit to this magical place we will walk down to Aguas Calientes (1 hour). You can get off by bus for which you need to purchase a ticket. Returning it is advisable to have lunch in the town of Aguas Calientes, then the return train from Aguas Calientes is at 4:45 p.m. onwards. arriving at Poroy Train Station at approximately 8:30 pm.