Other attractive apart from the main one is sailing on Lake Titicaca and visiting the city of Puno. We can visit a forest of puyas of approximately 1200 hectares, as well as the stone formations of more than 50 meters high and also the two replicas of La Piedad by Michelangelo.
To arrive to this city from the starting point is impressive from the Lampa district, about 79 km north of the department of Puno. Where we will find a house, which will be our lodging with more than 300 years old.
The house is decorated rustic like a farm and belonged to a Spanish landowner who told us by studies that he studied in Lima, and on vacation he went to this house to spend his holidays.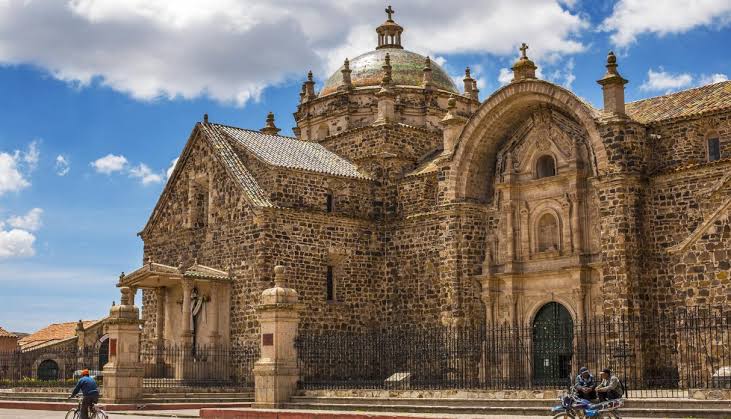 In this pink city, it is well known because its houses are made with carved ashlar, it has a natural beauty and the Andean treasures it possesses: with two replicas of Miguel Angel's piety, which is authorized by the Vatican.
In the pink city it has a church called Santiago Apostle, (where the replicas are located), it is the only temple in Peru that the tower is separated from the temple.
Cordilleran Circuit
Another circuit that we can visit is Palca about 45 min from the trail where we can observe and learn about alpacas breeding.
Lampa comes to be called the second alpaquera area of ​​Puno, after Macusani (it is also in the department of Puno). At about 4080 meters high, where we can see the marketing of how locals do the trick between alpaca and sheep wool for agricultural products that by altitude do not grow in this area.

Where the locals In their humble homes will show us the fiber treaty.
In the course of Palca among the towns of Vila Vila we find some auquénidos like alpacas and llamas grazing. In which we can observe its fauna and flora as well as its habitat.
The town of Vila Vila will find a lagoon in which ducks and huallatas live.
After enjoying this town we can go to the town of Tinajani canyon, a place that looks like another world. With stone formations that reach 50 meters high.